Hero's Name:

Elvanshalee Noquar - The Ghost

Player's Name:

greybeard

Species:

Zerg Mutate

Profession:

Tech Op

Gender:

Female

Career:

Doctor

Attributes:

On a Mission, Just, Mysterious, Logical – Elvanshalee

Vengeance, Unscrupulous, Illogical, Flirty - Jordan

Last Resorts:

1 q

Setting:

Star*Drive (StarCraft)

GameMaster:

Savoy Len, Les

Last Resort Cost:

3

<![if !supportMisalignedColumns]>
<![endif]>
<![if !supportEmptyParas]> <![endif]>
| | | | |
| --- | --- | --- | --- |
| ABILITY | Score | Untrained | Res Mod |
| Strength | 8 | 4 | +0 |
| Dexterity | 11 | 5 | +1 |
| Constitution | 10 | 5 | <![if !supportEmptyParas]> <![endif]> |
| Intelligence | 13 | 6 | +2 |
| Will | 10 | 5 | +0 |
| Personality | 8 | 4 | <![if !supportEmptyParas]> <![endif]> |

ACTION CHECK SCORE

| | | | |
| --- | --- | --- | --- |
| Marginal | Ordinary | Good | Amazing |
| 14+ | 13 | 6 | 3 |

<![if !supportEmptyParas]> <![endif]>

| | | | |
| --- | --- | --- | --- |
| DIE | +d0 | Actions Per Round | 2 |

COMBAT MOVEMENT RATES

| | | | | | | | |
| --- | --- | --- | --- | --- | --- | --- | --- |
| Sprint | 18 | Run | 12 | Walk | 4 | <![if !supportEmptyParas]> <![endif]> | <![if !supportEmptyParas]> <![endif]> |
| Easy Swim | 2 | Swim | 4 | Glide | - | Fly | - |
<![if !supportEmptyParas]> <![endif]>
DURABILITY

Stun

10

qqqqqqqqqq

Fatigue

5

qqqqq

Wound

10

qqqqqqqqqq

Mortal

5

qqqqq
<![if !supportEmptyParas]> <![endif]>
| | | | | | | | | | |
| --- | --- | --- | --- | --- | --- | --- | --- | --- | --- |
| ARMOR | LI | HI | En | AP | Score | Die | Tough | Mass | Hide |
| Dermal Armor | d6+1 | d4+1 | d4 | 0 | - | - | O | 0 | - |
| Milano GX CF Bodysuit | d8-1 | d8-1 | d6 | 0 | - | - | O | 3 | +2 |
| Zergtropic Armor | d6+2 | d4+2 | d4+1 | 0 | - | - | O | 0 | - |
<![if !supportEmptyParas]> <![endif]>
ATTACK FORMS

Score

Base
Die

Type

Range
(S/M/L)

Damage

Hide

Clip
Size

Mass

Saber Claws

12/6/3

+d0

LI/O

Personal

d4w/d4+1w/d4+2w

0

-

-

Spine Volley

13/6/3

+d0

LI/O

15/30/45

d4+1w/d6+1w/d4m

-

3

-

Unarmed

12/6/3

+d0

LI/O

Personal

d4s/d4+1s/d4+2s

-

-

-

Zerg Bite

12/6/3

+d0

LI/O

Personal

d4w/d4+1w/d4+2w

0

-

-

T-Bar TN Blade

4/2/1

+d4

LI/O

Personal

d6w/d6+1w/d4m

3

-

4

AAMG-12 Mass Rifle

13/6/3

-d4

EN/G

4/12/30

d6+1w/d8+1w/d6+1m

-

8

4

ARZ 6mm Charge Autorifle

13/6/3

-d4

LI/O

60/150/400

d6w/2d4w/d4+1m

-

90

2.75

Phoenix 200-watt Assault Melter

13/6/3

+d0

EN/G

15/30/75

2d4+2w/2d6+2w/2d6m

-

30

6.5

Sirocco 100 Stutter Rifle

13/6/3

-d4

LI/O

20/40/200

d6+3s/d8+3s/d12+3s

-

12

3.5

Dark Matter Bolt (2 per FX)

14/7/3

+d0

EN/O

30

d4+1w/d6+1w/d4m

-

-

-

Heliop Starsword

4/2/`

+d4

EN/G

Personal

d6+1w/2d6w/d4+3m

+2

10

2
<![if !supportEmptyParas]> <![endif]>
Bonus

SITUATION DIE STEPS SCALE

Penalty

-5

-4

-3

-2

-1

+0

+1

+2

+3

+4

+5

+6

+7

-d20

-d12

-d8

-d6

-d4

+d0

+d4

+d6

+d8

+d12

+d20

+2d20

+3d20
<![if !supportEmptyParas]> <![endif]>
ACHIEVEMENT TRACK

Skill Points Spent:

205/206

Stored:

1

q

q

q

q

q

q

q

q

q

q

q

q

q

q

q

q

q

q

q

q

q

q

q

q

q

q

q

q

Hero's Level

1

2

3

4

5

6

7

8

9

10

11

12

13

14

15

16

17

18

19

20

21

22

23
<![if !supportEmptyParas]> <![endif]>
PERKS

Observant

3

Faith

5

FLAWS

Representative Gestures

2

Code Of Honor

3

Powerful Enemy 4

4
<![if !supportEmptyParas]> <![endif]>
STR Skills

Rank

Score

Die

Athletics

[

8

/

4

/

2

]

+d4

<![if !supportMisalignedColumns]>
<![endif]>

<![if !supportEmptyParas]> <![endif]>

DEX Skills

Rank

Score

Die

Acrobatics

[

11

/

5

/

2

]

+d4

Defensive Martial Arts

1

[

12

/

6

/

3

]

+d0

Zero-G Training

1

[

12

/

6

/

3

]

+d0

Modern Ranged Weapons

[

11

/

5

/

2

]

+d4

Rifle

2

[

13

/

6

/

3

]

+d0

Stealth

[

13

/

6

/

3

]

+d4

Hide

1

[

13

/

6

/

3

]

+d0

Sneak

1

[

13

/

6

/

3

]

+d0

<![if !supportEmptyParas]> <![endif]>

CON Skills

Rank

Score

Die

Stamina

[

10

/

5

/

2

]

+d4

<![if !supportMisalignedColumns]>
<![endif]>

INT Skills

Rank

Score

Die

Computer Science

[

13

/

6

/

3

]

+d4

Hacking - Program

1

[

14

/

7

/

3

]

+d0

Hardware - Program

1

[

14

/

7

/

3

]

+d0

Programming

1

[

14

/

7

/

3

]

+d0

Demolitions - Program

[

14

/

7

/

3

]

+d4

Scratch-built - Program

1

[

14

/

7

/

3

]

+d0

Knowledge

[

13

/

6

/

3

]

+d4

Computer Operation

1

[

14

/

7

/

3

]

+d0

First aid

2

[

15

/

7

/

3

]

+d0

Life Science

[

13

/

6

/

3

]

+d4

Genetics

1

[

14

/

7

/

3

]

+d0

Mutations

1

[

14

/

7

/

3

]

+d0

Xenology

1

[

14

/

7

/

3

]

+d0

Medical Science

[

13

/

6

/

3

]

+d4

Medical Knowledge

2

[

15

/

7

/

3

]

+d0

Surgery

2

[

15

/

7

/

3

]

+d0

Treatment

2

[

15

/

7

/

3

]

+d0

Xenomedicine

1

[

14

/

7

/

3

]

+d0

Navigation - Symbiote

[

14

/

7

/

3

]

+d4

Superspace Navigation

1

[

14

/

7

/

3

]

+d0

System Operation - Program

[

14

/

7

/

3

]

+d4

Communication - Program

1

[

14

/

7

/

3

]

+d0

Defenses - Program

1

[

14

/

7

/

3

]

+d0

Technical Science

[

14

/

7

/

3

]

+d4

Juryrig

1

[

14

/

7

/

3

]

+d0

Repair

1

[

14

/

7

/

3

]

+d0

Robotics

1

[

14

/

7

/

3

]

+d0

Technical Knowledge

1

[

14

/

7

/

3

]

+d0

<![if !supportEmptyParas]> <![endif]>

WIL Skills

Rank

Score

Die

Awareness

[

10

/

5

/

2

]

+d4

Perception

1

[

11

/

5

/

2

]

-d4

Investigate

[

10

/

5

/

2

]

+d4

Research

1

[

10

/

5

/

2

]

+d0

Resolve

[

10

/

5

/

2

]

+d4

Mental Resolve

1

[

11

/

5

/

2

]

+d0

<![if !supportEmptyParas]> <![endif]>

| | | | |
| --- | --- | --- | --- |
| PER Skills | Rank | Score | Die |
<![if !supportEmptyParas]> <![endif]>
FX SKILLS

Energy: 5 qqqqq

FX Skills

Energy

Ability

Rank

Score

Die

Mesmerism

Confuse

1

WIL

0

[

10

/

5

/

2

]

+d4

Dominate

1

WIL

1

[

11

/

5

/

2

]

+d0

Hypnotize

1

PER

0

[

8

/

4

/

2

]

+d4

Mindshatter

2

WIL

1

[

11

/

5

/

2

]

+d0

Pyromancy

Cloak of the Phoenix

1

CON

0

[

10

/

5

/

2

]

+d4

Fiery Bolt

1

WIL

4

[

14

/

7

/

3

]

+d0

Fire Wall

1

WIL

0

[

10

/

5

/

2

]

+d4

Flame Gauntlet

1

CON

0

[

10

/

5

/

2

]

+d4

Storm of Flames

2

WIL

1

[

11

/

5

/

2

]

+d0
<![if !supportEmptyParas]> <![endif]>
CYBERTECH
Cyber Tolerance:

5 / 3 / 2

qqqqq / qqq / qq

Cyber Cykosis:

<![if !supportEmptyParas]> <![endif]>

qqqqq

Nanocomputer - 10 skill points - Amaze quality - Size 1

Co-Processor – PL7 – Good quality – Size 0
Subdernmal NIJack - Good quality - Size 1
BioArt - Good quality - Size 0
BioWatch - Good quality - Size 0
Neural 3D External - Ordinary quality - Size 1
Artificial Eye Enchanced - Good quality - Size 1 - with thermal vision option
Optic Screen - Ordinary quality - Size 0
Communications Port Interface - Good quality - Size 0
Deflection Web (rechargable) with Systemic Reinforcement - Ordinary quality - Size 1

<![if !supportEmptyParas]> <![endif]>
<![if !supportEmptyParas]> <![endif]>
MUTATIONS

| | |
| --- | --- |
| Advantages | Cost |
| Vascular Control | 1 |
| Enhanced Senses | 2 |
| Dermal Armor | 2 |

| | |
| --- | --- |
| Drawbacks | Cost |
| Minor Physical Change | 2 |
| Poor Dual Brain - Jordan | 4 |
<![if !supportEmptyParas]> <![endif]>
| | | | | | |
| --- | --- | --- | --- | --- | --- |
| EQUIPMENT | Mass | Qty | EQUIPMENT | Mass | Qty |
CHARACTER NOTES
Tech Op Action Check Increase: action check score increased by 1
Tech Op Accelerated Learning: see chart in PH pg 32 when advancing in levels
Observant Perk: -1 step bonus to Awareness-Perception checks
Created by The Windows Alternity Character Manager
Representative Gestures – 2 – DEX – as per the psionic flaw, instead for FX Shadow skills specifically, one must cross extendible tendrils from her palms to ignite the release of energy from the Zerg-implanted organs.  Primarily, this makes it noticible that she up to something and maybe more.  Foes will be suspicious.
Code Of Honor – 3 – WIL - doctor ethics to all non-evil
Powerful Enemy 4 – 4 – PER - Externals, Zerg Cerebrate, etc.
<![if !supportEmptyParas]> <![endif]>
Cybergear Notes
<![if !supportEmptyParas]> <![endif]>
Nanocomputer - 10 skill points - Amaze quality (PL7) - Size 1 – 6 active slots, -3 bonus comp use/hack skills
Co-Processor – Good quality (PL7) – Size 0 - -1 bonus comp use/hack skills
Subdernmal NIJack - Good quality - Size 1 – forearm location
BioArt - Ordinary quality - Size 0 – Sons of Korhal tattoo, Dark Templar Insignia
BioWatch - Ordinary quality - Size 0
Neural 3D External - Ordinary quality - Size 1 – can use 3Ds to access more data
Artificial Eye - Good quality with thermal vision - Size 1 – enhanced magnification (x25), -2 bonus invest-search and aware-percept
Optic Screen – Ordinary quality – Size 0 - heads-up display
Comm Port Interface – Good quality – Size 0 – 50 km range, transmit/receive comm. signals & video feed
Deflection Web (rechargible) with Systemic Reinforcement – Ordinary quality – Size 1 – lasts 5 rounds, foes +2 penalty physical/energy attacks but also PC has +1 penalty to same attacks
Mutation Notes
Vascular Control – Wil – Perm - -1 mortal damage received and –1 bonus stamina - endure
Enhanced Senses – Wil – -2 bonus to Aware-Percept and Investigate checks with physical senses
Dermal Armor – Con – Perm – subdermal armor rating d6+1 (LI)/d4+1 (HI)/d4 (EN)
Minor Physical Change – Con - Pointed ears, glowing violet eyes (no eye whites), violet hair - +2 penalty to PER skills.

 

5th Level Evolution – with gaining of the Zerg Overmind abilities, electric blue spines (1" high) have grown from forehead (2" path) back through hair down to mid back.

 

Changed hair color in this region to electric blue as well.
Poor Dual Brain (Jordan) – Int – Automatic – 1st round of high stress (such as combat) must make –3 bonus mental resolve check or 2nd brain (alter ego) takes over.

 

The 2nd brain has the following traits:

 

vengeance, unscrupulous, illogical, flirty.

 

After an hour, the 1st brain becomes dominate once again.

 

Both brains have full access to skills and have same mental ability scores.

 

The 2nd brain dislikes the 1st but not necessarily her allies.
Latent Zerg Mutations
(5th Level) – Zerg Overmind Abilities (see background) – Cost 10 skill points
<![if !supportLists]>1. <![endif]>Granted ability to purchase following Mesmerism FX skills – confuse, dominate, forgetfulness, hypnotize, mindshatter.
<![if !supportLists]>2. <![endif]>To use given skill, costs one fatigue point rather than one FX energy.  Thus it is exhausting to use these mental abilities.
<![if !supportLists]>3. <![endif]>Transmission of ability is by pheromones and delta waves (sleep waves) via eye contact.  If there is no atmosphere or either person is in esuits (or the like), +2 step penalty applied to powers due to limited medium to transfer pheromones.
<![if !supportLists]>4. <![endif]>Range of skills is 10/20/30 m.
These abilities use pheromones and delta waves (mental brain waves associated with sleep) rather than eye contact and voice emissions.  The reasoning is that Zerg are more animalistic creatures with a pheromonal/somatic communication language.  Mesmerism is more based upon hypnotists and public speakers.  Since these Zerg Overmind skills are from 'Jordan' and thus a poor dual brain, the FX energy drain would not come from a secondary FX pool source nor from the 'dark matter' energy pods within the body.  It unfortunately drains the body via the vascular system.  The genetic anomalies of the second brain and the altered vascular system which helps maintain that organ cause this effect.  Since the brain's neural pathways for the Zerg Overmind skills are so different to those that control 'dark matter' emissions, using these skills are draining on the body with the loss of chemicals and sleep (delta waves).  Thus Elvan's fatigue score shall supplement her Zerg Overmind skills only. In meaning, Elvan shall suffer daze and possible knockout effects for using these skills. 
<![if !supportEmptyParas]> <![endif]>
(10th Level) – Zergtropy Abilities – Costs 15 skill points
<![if !supportEmptyParas]> <![endif]>
This is development condition of the particular hypervirus implanted in Elvanshalee Noquar.  The cerebrate that developed this "toxin" programmed it to activate other characteristics under certain conditions, whether received from transmission or by situation.  With the "turn of events" in regards to the rogue brain implant, the "code" was also affects/corrupted. 
Elvan was meant to be further augmented into a "perfect" killing unit.  Stealthful, adaptable, and lethal.  Though the toxin continues to have influence the outcome are no varied from the original intent.  The toxin was to bring about the infusion of zerg strains into Elvan's biology.  These strains were to be complimented with the dark matter generator and the zerg-cerebrum.  The zerg strains that were mixed composed of overlord genome, hydralisk genome, the rare strain of spectre, and possibly others.
The overlord genome manifested as the Overmind powers described in another section.  These were flawed and not without cost.  A clear sign of the corrupted "code" of the cerebrate's program.
Now another genome(s) is/are about to manifest.  However, flaws abound.  In this case, a unpredictable manifestation occurs in which a physical metamorphosis occurs.  This may cause some alarm to those who witness the outcome.  The metamorphosis is not extremely drastic nor long lived.  The following appear changes do occur:  head hair fuses into a mane of spines, hydrolisk-like sabers grow out of the forearms, skin thickens and darkens to jet black with green highlights, an extensive tail grows (2 m in length), mouth enlarges and lower jaw extendible filled with fangs, a harden bone ridge extends the forehead/eyebrow region (~5 cm).
<![if !supportEmptyParas]> <![endif]>
The following penalties apply
<![if !supportLists]>- <![endif]>minor physical change mutation is changed to major physical change with appropriate increased penalties.
<![if !supportLists]>- <![endif]>Most clothes and light armor, if not properly altered for the transformation, become damaged until repaired.  If not tailored properly, Elvan takes 1d4 stun.
<![if !supportLists]>- <![endif]>If medium to heavy armor is worn at time of transformation with no alterations, Elvan strains with the change and is forced to revert back to normal and takes 1d4 wounds.
<![if !supportLists]>- <![endif]>The "poor brain" becomes more integrated and "merges" with the primary host.  A blend of attributes – On a Mission, Unscrupulous, Logical, Flirty.
<![if !supportLists]>- <![endif]>End of the duration of the transformation (back to the normal host stage), half of stuns and fatigues point filled.
<![if !supportLists]>- <![endif]>Cost of 15 skill points.
<![if !supportEmptyParas]> <![endif]>
The following benefits apply while transformed
<![if !supportLists]>- <![endif]>Natural Weapons (hand sabers, fangs (zerg bite) ) – LI/O d4w/d4+1w/d4+2w.  Skill by best unarmed combat skill.
<![if !supportLists]>- <![endif]>Improved Dermal Armor (zergtropic armor) – O d6+2 (LI), d4+2 (HI), d4+1 (En)
<![if !supportLists]>- <![endif]>Improved Reflexes - -1 bonus to action check
<![if !supportLists]>- <![endif]>Spine Volley – one action, 2 meter spread at range, no resist modifiers and use Table P20 (page 47 DMG) on hitting target(s). HI/O d4+1w/d6+1w/d4m, Range 15/30/45, 3 volleys max. per day.  Skill by best range combat skill.
<![if !supportLists]>- <![endif]>+1 rank to FX skills while transformed
<![if !supportLists]>- <![endif]>Cloaking – WIL check, +2 step penalty on aware-percept or investigate-search checks by others to locate her (or –2 bonus to stealth-sneak/hide checks).  Lasts 5 minutes per degree of success (or the end of the transformation). Costs 1 FX.
<![if !supportEmptyParas]> <![endif]>
The transformation can be initiated by situation or by concentration.  In the advent of situation, any time a personality switch fails (see comments under Poor Dual Brain) a transformation maybe caused.  This is resolved by a (another) mental resolve check to control the change.  So that's two mental resolve checks – one for personality switch and one for transformation.  Failure causes a change.  Success allows for player's choice (if choose not to change then take 1d4 stun).  The change takes 2 phases as a failed check or 1 phase with a critical failure.  The transformation lasts 20 minutes with a failed check or 40 minutes with a critical failure.  If the player choose to change anyways, treat result as a forced change described next.
<![if !supportEmptyParas]> <![endif]>
By concentration, a mental resolve check at +1 penalty may be attempted to force the change.  Failure to change causes 1d4 stun.  Success yields the change.  The forced change takes 4/3/2/1 phases as per mental resolve success degree (M/O/G/A).  The forced transformation lasts 10 minutes per degree of success of the mental resolve check.
Skill/Rank Benefits and Descriptions
'Dark Matter' (Fiery) Bolt – Wil – 1 FX point - As per Fiery Bolt skill but composed of black laser light or dark matter energy.

 

Unlike Fiery Bolt, this energy form has less heat and light associated with it.

 

It appears more like crackling energy and dark flames.

 

Rank 4 Benefit – Create second sphere at no additional FX cost that may strike same or different target
Medical Know – Rank 2 Benefit - -1 step bonus to Med Sci Treatment
Money/Possessions – $22650 
Computer Programs –
Diagnostics – Amaze, -2 Med Sci Treatment, 1 slot
Assist – Good, System Ops broad group – Comm rank 1 & Defense rank 1, 2 slot
(Unused) Assist – Good, Tech Sci broad group – Juryrig rank 1& Robotics rank 1, 2 slot
Assist – Good, Comp Sci broad group – Hacking rank 1 & Hardware rank 1, 2 slot
Assist – Ordinary, Demolitions broad group – Scratch Built rank 1, 2 slot
Reference – Good, -2 step bonus, Tech Sci, 3 slot
Reference – Good, -2 step bonus, Med Sci, 3 slot
Reference – Good, -2 step bonus, Comp Sci, 3 slot
Robot OS – Ordinary, 1 slot
Transfer – Ordinary, 2 slots per round
Unity – Ordinary, induces meditative calm, 2 slot
Netsearch – Ordinary, 1 slot
Other Programs – application (m) 2 slot, datadoc (o) 2 slot, datascan (o) 1 slot, antivirus (o) 1 slot, alarm (o) 1 slot
Shadow Form – Ordinary – str 8, dex 8, con 8, 8s/8w/4m
Shadow Weapon – Ordinary – comp sci – hack –1 bonus, d4+2s/d4w/d4+2w
Shadow Armor – Ordinary – protection d4/+1 penalty
Shadow Bolt – Ordinary – range attack – d4s/d6s/d4w
<![if !supportEmptyParas]> <![endif]>
3Ds (2) – $15, Ordinary quality
MedCare One First Aid Kit - $100.1 kg
Surgical Tool Kit  - $1250, 12 kg, $250 per replacement drugs, etc.        10 units left
Trauma Pack I – 5 uses each pack                 5 units left (25 uses)
Trauma Pack II – 2 uses each pack                                5 units left (10 uses)
Biodetector – range 50 m, -2 step bonus life sci biology or sys op sensors, biochem sniffer
Sensor Gauntlet – em and chemical detector, -1 step bonus life sci, phys sci, aware, investigate
Specialized Toolkit - Electronics –1 step bonus to repair computer, communications, sensors
<![if !supportEmptyParas]> <![endif]>
Sirocco 100 Stutter Rifle – $750 3.5 kg, 2 actions, -1 accuracy, LI/O, 20/40/200 m, d6+3s/d8+3s/d12+3s, 12 shots/clip $70 per clip      3 clips
ARZ 6mm Charge Autorifle (2.75 kg, burst/autofire, -1 accur, 3 actions, HI/O, 60/150/400 m, d6w/2d4w/d4+1m, 30 burst/clip)  $125 per clip                3 clips
T-Bar TN Blade (4 kg, 4 actions, LI/G, d6w/d6+1w/d4m, +3 hide)
AAMG-12 Mass Rifle (4 kg, 2 actions, -1 accur, fire, En/G, d6+1w/d8+1w/d6+1m, 4/12/30 m, 8 shot/clip)
$100 per clip        5 clips
Target X Holo Sights – long range penalty reduce by 2 step.
Phoenix 200-watt Assault Melter (Dragon – 273) – ($7350, 6.5 kg, 2 actions, 0 accuracy, fire, EN/G, 2d4+2w/2d6+2w/2d6m, 15/30/75 m, 30 shot/clip, $125/clip)
<![if !supportEmptyParas]> <![endif]>
Duster Coat, Trail Boots, Jeans and T-Shirt
Duffle Bags, Backpack
Darying Underclothes with Antiscan Weave
Sari, Du Jour Short Skirt/Halter
Cocktail Dress, Dark Templar Cassock
Milano GX CF Bodysuit (body armor) (3 kg, O, d8-1/d8-1/d6 LI/HI/En, +2 hide) with antiscan weave (+3 sensor resist vs. IR, xray, weapon) and stealth weave (6 hr power, -2 stealth check, +1 range attack resist)
<![if !supportEmptyParas]> <![endif]>
Alien Artifact – Orb of the Psion – Soul of T'ruoble, must make mental resolve check to use.  50 LY (10 min) to contact telepathically anyone met before
2 Heliop Starswords (2 kg, 3 actions, En/G, d6+1w/2d6w/d4+3m, +2 hide, 10 clip size)
External Language Module
Knowledge/Schematics of Bareem and Sifarv External Anatomies (enough for xenomedicine)
Description
Height – 5'8", Weight 135 lbs., dark-brown skinned, voluptuous, violet thick hair, violet glowing eyes (no iris), anatomy as normal except an extra pair of black organs that generate dark matter energy near the kidneys, tapered ears, extendible 4" tendrils from the palms of her hands.  With gaining of the Zerg Overmind abilities, electric blue spines (1" high, and flexible) have grown from forehead (2" path) back through hair down to mid back.  Changed hair color in this region to electric blue as well.
<![if !supportLineBreakNewLine]>
<![endif]>
During zergtropic effects in place – Height 6'5", Weight 175 lbs, jet black skin with some protruding bone ridges, mane of electric blue spines (appearance of porcupine quills), violet glowing eyes (no iris), dark green bone sabers protruding from forearms (hydralisk like), widened lower jaw with fang like teeth (hydralisk like), 2 m snake-like tail, a partial extended (5 cm) bone ridge above brow.forehead.
<![if !vml]>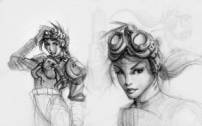 <![endif]>
<![if !supportEmptyParas]> <![endif]>
Background
Elvanshalee Noquar is at times known as Jordan Noquar, a Terran of African descent.  Her story begins as she grew up partially in the Far Reaches on the planet of Korhal before the Terran Confederacy nuked the planet with 1000 Apocalypse-class nuclear missiles.  When the Sons of Korhal led by Arcturus Mengsk offered their assistance to the survivors, she joined their ranks and took up the profession of "Ghost" or infiltrator.  During her training of stealth and investigation at a remote base in the sector of Koprulu, a Zerg (an External race) incursion of their base abducted her for infestation.  She later awoke changed inside a putrid polyp.  Her body had been twisted and mutated by cancer-like toxins.  On the outside she appears as an elegant voluptuous woman of unusually hard ebony skin.  However, her violet stained hair, violet-glowing eyes, and tapered ears betray her as something more.  Any medical scan would easily identify even more, an extra set of organs including a brain.  The extremely unstable chemicals inside her allowed her to manifest the ability to manipulate black light thus far.  Whether to produce maser-like radiation from her hands or to bend the dark matter energy to make her shielded, the Zerg had a new toy to terrorize the Terrans.  However, the Zerg Cerebrate in charge of this new trooper was new to mutating this species.  The implanted brain took on more of her undesirable flaws rather than the programmed ones, and also was not the dominate factor.  This new identity calls itself Jordan.  In either case, she was not easily controlled.  At release to her first assignment, she quickly defected back to the Terran side.  She now currently works with Jim Raynor who has connections with the mysterious Protoss.  As a strange irony to her story, Jim Raynor and herself are against Arcturus Mengsk and his diabolic plans of being dictator to the Far Reaches.  With incomplete training in any career and desires to cure her "cancer' or other infested Terrans, she has taken on the mantle of medicine and genetics in her later years.  As a secondary role, she continues to help those against the External threat in any sector.
Recently, Jim Raynor has asked her to take up the old role of investigator.  Raszagal of the Dark Templar has felt the return of a fallen comrade and has asked for their help to determine the fate of this begotten soul.  In return for these services, the Protoss Dark Judicator has inclined to Elvanshalee that she may be able to help Elvanshalee and Jordan to co-exist in a much better relationship.  She now travels to the Verge Sector to meet with a known contact in the system.
<![if !supportEmptyParas]> <![endif]>
The cloaked contact told her of the ship Kurtosis and their Protoss warrior.  Convinced of a possible lead, she met with the captain, a 'Lord' Raven Loresvault, at Alitar shipyards.  Though seemingly sincere and respectful, more hinted at this individual much like herself.  Taking on the role of ship's doctor she quickly learned of the fate of Rubiks' Nox and Raven's connection.  She also learned of the crew's doctrine against the Externals.  Deciding to join this Al Karam sect and taking the symbiote in confedence, Elvan released Rubiks' soul back to Aiur as promised to Raszagal over Oberon.  What of the Dark Templarate's promise of mind reunification?  She figured,  'that which does not kill us, makes us stronger.'  The Externals Wars has many fronts.  Which sector of space to make a stand doesn't matter.  Just so that you make a stand.
<![if !supportEmptyParas]> <![endif]>
Her journeys on Oberon would change many things about herself and even Jordan.  Coming out of star drive, Kurtosis' scanners picked up External vessels and their "interaction" with the locals.  Shattered remains of ship hulls.  The Kurtosis quickly navigated to Oberon.   Even here at first arrival, the Kurtosis crew was foreshadowed with danger and political intrigue.  Starting with allying with a nanite-altered Fraal hunted by the Externals, saving Nariac ambassadors while uncovering the VC Omega organism plot, bombing Exeat Temples but mishandling an assassination attempt, losing comrades soul trapped in black orbs due to the Gardhyi, and then partaking in a suicide mission on a Rigunmor dreadnaught in an attempt to liberate Oberon.
<![if !supportEmptyParas]> <![endif]>
All along, 'Jordan' the poor dual brain has had moments to experience the conscience forefront.  Along with telepathic scans from Dralanna and exposure to two different Gardhyi orbic artifacts, latent powers implanted by the Zerg Cerebrate have begun to evolve.  Originally designed to subjugate targets or obstacles of the Zerg Swarm, these powers never came to the foreground due to the incapacity of the poorly developed dual Zerg brain and personality.  Now with maturity and psionic stimulation of 'Jordan', she is beginning to understand another facet of her supposed-role to the Zerg.  All this finally catalyzed fully with Raiden's use of a mutant electric arc from an embrace with Dralanna that left Jordan enraged.  With the new spines as a mark, will Elvan be able to resist the droning chant of the Swarm or the spread of the Zerg hypervirus?  Time will tell.
<![if !supportEmptyParas]> <![endif]>
Elvanshalee continues to grow personally with the group.  Many trials and near-death scenarios have forged many bonds, particularly with Dralanna and Raiden.  But her special connection is a robotic feline she renamed/programmed Sabyr (from Kittie).  Orginally built by a T'sa, he later 'left' the group, as so many have in one form or another, and left behind Sabyr.  She even recently upgraded the robot as long promised.
<![if !supportEmptyParas]> <![endif]>
Her recent adventures have transversed time and dimensions from Mind Flayers (and being one) to prehistoric cavepeople and from flying dragons to back home.  Her purpose remains well established with this group and their desire to end the advancements of the Externals.  Her passions for eliminating these creatures have been tempered though from her dealings with the Zerg.  She knows time is of the essence but also that careful patience is needed before rash action.  Due to this perception of life, her bond with Raiden has grown into a developing relationship.    She, however, worries about becoming more vulnerable with this new "level" with Raiden.  She had not "cared" for someone since her personal losses back at Koprulu.  Will love conquer all?
<![if !supportEmptyParas]> <![endif]>
As fate would have it, their bond has grown closer together.  A recent journey into another dimension has left Raiden scarred.  The group discovered a planet with strange one eyed creatures known as heliops.  These were bred by the Externals to make a primer virus.  This primer virus, in turn, has been mutated into various trains that have been applied to some in the Verge.  These victims become the Kroath.  Raiden, during a physical confrontation with a heliop, has become infested with the virus.  Now both soul-mates share a commonality that few would like too.  This may kill Raiden.  Elvan though is not without her own concerns.  Her zerg hypervirus has evolved again with a curse similar to that of ancient Earth werewolves.  She may "transform" into a zerg-like mutation uncontrollably.  Yikes!
<![if !supportEmptyParas]> <![endif]>
Elvanshalee has struggled in "curing" Raiden.  She has been able to find an antidote to stall the virus he contracted from the alien race.  However, she has not been able to cure his other state, one of isolationism.  He has turned inwardly focused to cope with his condition.  With this, he has withdrawn from her more and more.  Feeling ever vulnerable than before (with exception of past time of Korhal), she also has turned inward to help cope with her situation.  A man she cares about has turned "cold", she faces uncontrolled zergtropic attacks, and uncertain future of the Verge hangs in the balance.  To feel balanced, to feel more secure, she has turned to what was left to her, though indirectly.  She has turned to confiding in the Protoss faith of Khala.  The thought of something greater out there in the vast darkness of space that wants to comfort those who recognize it has intrigued her. 
<![if !supportEmptyParas]> <![endif]>
<![if !supportEmptyParas]> <![endif]>
<![if !supportEmptyParas]> <![endif]>
<![if !supportEmptyParas]> <![endif]>
<![if !supportEmptyParas]> <![endif]>
<![if !supportEmptyParas]> <![endif]>
Summary Bonuses
<![if !supportEmptyParas]> <![endif]>
Aware – Percept
                -1 observe perk, -2 mutate, -2 artifical eye, -1 sensor gauntlet
<![if !supportEmptyParas]> <![endif]>
Med Treatment
                -1 med know rank, -2 reference program, -2 diagnostic program
<![if !supportEmptyParas]> <![endif]>
Investigate – Search
                -2 mutate, -2 artificial eye, -1 sensor gauntlet
<![if !supportEmptyParas]> <![endif]>
Tech Science
                -2 reference program
<![if !supportEmptyParas]> <![endif]>
Computer Use/Hacking
                -4 nanocomputer & co-processor
                -2 reference program
<![if !supportEmptyParas]> <![endif]>
Stealth
                -2 milano suit in stealth mode
<![if !supportEmptyParas]> <![endif]>
<![if !supportEmptyParas]> <![endif]>
<![if !supportEmptyParas]> <![endif]>
<![if !supportEmptyParas]> <![endif]>
<![if !supportEmptyParas]> <![endif]>
<![if !supportEmptyParas]> <![endif]>
<![if !supportEmptyParas]> <![endif]>
<![if !supportEmptyParas]> <![endif]>
<![if !supportEmptyParas]> <![endif]>
<![if !supportEmptyParas]> <![endif]>
<![if !supportEmptyParas]> <![endif]>
<![if !supportEmptyParas]> <![endif]>
<![if !supportEmptyParas]> <![endif]>
<![if !supportEmptyParas]> <![endif]>
<![if !supportEmptyParas]> <![endif]>
<![if !supportEmptyParas]> <![endif]>
<![if !supportEmptyParas]> <![endif]>
<![if !supportEmptyParas]> <![endif]>
<![if !supportEmptyParas]> <![endif]>
<![if !supportEmptyParas]> <![endif]>
<![if !supportEmptyParas]> <![endif]>
<![if !supportEmptyParas]> <![endif]>
<![if !supportEmptyParas]> <![endif]>
<![if !supportEmptyParas]> <![endif]>
<![if !supportEmptyParas]> <![endif]>
<![if !supportEmptyParas]> <![endif]>
<![if !supportEmptyParas]> <![endif]>
<![if !supportEmptyParas]> <![endif]>
<![if !supportEmptyParas]> <![endif]>
<![if !supportEmptyParas]> <![endif]>
<![if !supportEmptyParas]> <![endif]>
Skill Points
121 (level 12) + 60 (Int) + 20 (Tech bonus 4,10,6) = 201 + 9 (flaw) – 8 (perk) = 202
<![if !supportEmptyParas]> <![endif]>
Experience Track
<![if !supportEmptyParas]> <![endif]>
4 – Rubiks' death                                                                3 – 6/5/04
3 – 12/23/02                                                                         5 – dark summer end – 8/28/04
4 – story 12/28/02                                                                --à 83
--à 11 total                                                                           2 – 9/11/04
3 – 1/4/03                                                                              6 – web - 9/15/04
1 – web support                                                                   3 – 9/17/04
3 – 2/8/03                                                                              --à 94
2 – story                                                                                 3 – 11/13/04
2 – web – 3/1/03                                                                  --à 97
6 – 3/2/03                                                                              2 – 12/4/04
3 – 3/16/03                                                                            2 – 12/11/04
2 – web – 4/3/03                                                                  3 – 2/5/05
3 – 5/8/03                                                                              1 – 2/11/05
2 – nexus – 5/31/03                                                            1 – 2/18/05
2 – dark summer end – 8/2/03                                         2 – 3/18/05
--à 40 total                                                                           --à 108
3 – 8/24/04                                                                            3 – 4/8/05
6 – forum posts/love affair – 10/12/03                             2 – 4/23/05
2 – showing up bonus – 11/22/03                                   2 – 5/05
5 – web – 12/6/03                                                                2 – 6/10/05
3 – 12/8/03                                                                            3 – 7/8/05
2 – 12/13/03                                                                         1 – 7/22/05
--à61 total                                                                            --à 121
3 – 2/3/04
2 – 2/04
3 – 2/28/04
2 – web – 3/12/04
4 – 5/8/04
<![if !supportEmptyParas]> <![endif]>
<![if !supportEmptyParas]> <![endif]>
<![if !supportEmptyParas]> <![endif]>